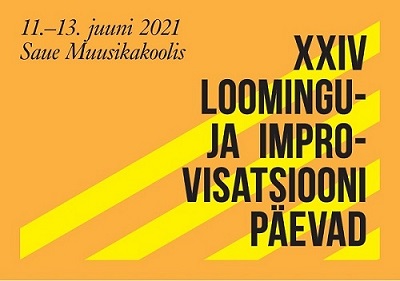 XXIV Days of Creation and Improvisation 11-13. June 2021, Saue Music School, Saue City. Come on an impro journey!
If possible, we play and improvise in FREE NATURE and partly indoors! We are looking for musicians of different ages and training. We also very much welcome teachers and parents to join! In addition to participating, the teacher also receives a certificate of in-service training!
No previous improvisation experience is required. Let's improvise through playing the instrument, movement and voice! The motto of the Improvement Days 2021: MOVEMENT, CREATIVITY AND POSITIVITY! We enjoy our own creations together and discover our own and others' creativity.
The participants will be instructed on this journey by:
Farištamo Eller, Eve Neumann - enriching instrument playing through improvisation
Sirje Medell - improvisation of voice through the courage of bold voices in the improv choir
Aita Vahter - Activating creativity through positive movement and word
During the improv days, the participant finds his / her voice and song, learns to improvise in a small group, can play in an improv orchestra, activates the use of language, word and text through movement. The improvement days end with a concert, which we also plan to broadcast in real time. We maintain the necessary rules of hygiene and dispersal.
All participants receive lunch, dinner and snacks every day. Please bring your (unbreakable) cup, spoon, plate and small food box. Wear sportswear for both indoor and outdoor use. Indoors, we are either in changing shoes or socks.
Time: 11 - 13 June 11:00 - 19:00
Participation fee: 55 € (includes lunches, evening meals and snacks)
We do not offer accommodation this year, but please contact us if you need help finding accommodation.
Registration: Student Registration Form
If you have any questions, write to: info@sauemuusikakool.ee
For questions about improvisation classes, call: 53496347.
For all other organizational questions, call: 5163128.
Hurry, because the number of places is limited!
The participant needs:
1) fill in the Registration Form - Student Registration Form, Teacher Registration Form
2) pay the participation fee of 55 EUR (or in two parts: the first part 20 EUR, the second part 35 EUR)
MTÜ Improviis SEB a/a EE561010220286139222
Indicate the participant's first and last name and the keyword "improvisation" in the explanation.
The registration fee for canceling the event will not be refunded.
NB! The number of participants is limited. If there are more applicants, we prefer those who have registered earlier.
You will be contacted to confirm your registration.
Saue Music School address: Nurmesalu 9, Saue city, Saue parish (Saue Gymnasium building)
Youtube: https://www.youtube.com/watch?v=OYfmaWRnIgc
Everything is created on the spot!
Lisainformatsioon: www.noortejazz.ee